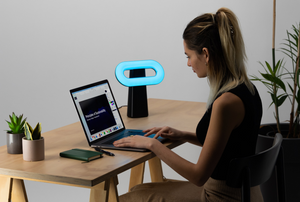 What our customers
are saying
Let customers speak for us
Just what I was looking for!
While completing my doctoral thesis (neuroscience of vision), my school gave me an office conveniently located close to my house, but with very little natural light! I worked long hours and found my circadian rhythm out of wack with day and night. I was thrilled to hear of an NZ-made product that understood the science of how visual pathways set the pace of alertness and sleep. Within days, Osin boosted my productivity and health, with a firm burst of blue light in the mornings that transitioned to orange in the evenings. My sleep improved and I found myself more focused during the days. It doesn't hurt that it's a beautiful product - I had the coolest looking desk in the lab!
Like a mother's kiss
I just live the soft changing of light colour. The amber one I feel like it is embracing my whole senses!
Does what it's designed for
Loop has been a blessing since its arrival. Loop has definitely help make positive changes to my sleep. I do have a slight issue with the application. As i purchased three Loops. Id like to be able to control all my Loop's from one device and multiple. I know Loop was designed for the office environment and its perfect for that. My office environment is in my home. Problem is my wife would like to benefit from Loop but cannot adjust the brightness at night if ive exited with my device. Also has to pick up two other separate devices in order to adjust the other Loops. Overall Loop in my life is doing exactly what its designed for.
Real People. Real Results.
Hear from the people using Loop every day.