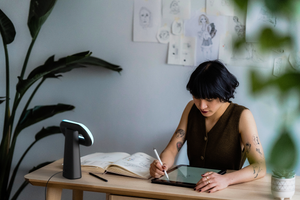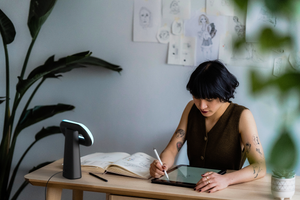 The science unveiled:
how it works
Meet your body clock
Our circadian clock governs numerous essential systems in our bodies, such as our sleep-wake cycle, mood, metabolism, and immune system. Scientists now agree that the circadian rhythm holds the key to improving overall health.
Light regulates our bodies' internal time
Light is the major cue that sets your circadian rhythm. Specialized cells in your eyes sync your circadian clock to the day-night cycle, responding to a narrow band of blue-sky light at 480 nm.
We've built the most advanced
circadian desk lamp.
At Osin, we strive to be at the forefront of this groundbreaking innovation. By harnessing the power of lighting technology, we support circadian alignment, enabling you to optimize your well-being.
Set and forget
The Osin Loop syncs to your time zone and then automatically delivers the recommended levels of light (300 EML) during the day while minimizing unnecessary exposure at night.
Innovative design
Placed at a 45º from your display, the Osin Loop's design ensures light is delivered where it is needed vertically at the user's eye. The longer a user is exposed to the Osin Loop, the better for circadian entrainment
Unlocking benefits beyond sleep
Grounded in science.Not marketing claims.
From the outset we knew we'd be met with scepticism, because in recent years people have been hit by a tsunami of generic sleep products. Most of these so-called sleep solutions ignore our underlying circadian biology and the light that sets it.
A team of circadian lighting experts
Our team proudly includes a former circadian rhythm researcher and subject matter expert, alongside over 35 years of collective experience in the lighting industry. We draw from diverse disciplines such as chronobiology, sleep research, and lighting to guide our approach.
About Us
Not just a colour changing bulb
How we compare
Promising Results
"One of the most effective sleep devices!I have been using this now (in my poorly lit warehouse office) for over 6 months and am pleased to report that my sleep length has improved from an average of 6.45 a night to an average of 8 hours. Furthermore, the quality of this sleep has improved, with wakefulness dipping down 20%."
As a sleep coach, Sandy has been tracking her sleep for years using her iWatch Ultra. With quantifiable data, Sandy is confident that the Osin Loop has helped to improve her sleep. 5/5
Discover the Osin Loop for yourself
Try the Osin Loop for 30 days, and if your don't love the way you feel, we'll give you 100% of your money back.