Global shipping

30 days free returns
Get help buying. Chat with us now.
3-year warranty
Features
For home or office
Loop is designed to double the daylight equivalent of your workspace, wherever you work.
Night-safe
Loop automatically transitions to a warm amber with no blue light at night, to promote healthy sleep.
Automatic light scheduling
Automatically delivers the right light at the right time to support your circadian rhythm.
Made in New Zealand
Loop is designed and manufactured using high quality materials in Christchurch, New Zealand.
Just what I was looking for!
While completing my doctoral thesis (neuroscience of vision), my school gave me an office conveniently located close to my house, but with very little natural light! I worked long hours and found my circadian rhythm out of wack with day and night. I was thrilled to hear of an NZ-made product that understood the science of how visual pathways set the pace of alertness and sleep. Within days, Osin boosted my productivity and health, with a firm burst of blue light in the mornings that transitioned to orange in the evenings. My sleep improved and I found myself more focused during the days. It doesn't hurt that it's a beautiful product - I had the coolest looking desk in the lab!
Bright, but functions great
I think it's good for me in my dark little office, but I don't experience the advertised benefits. The light is very bright, and at times I feel like it's causing me eye strain - though normally it's fine. The light looks great and functions well.
Like a mother's kiss
I just live the soft changing of light colour. The amber one I feel like it is embracing my whole senses!
Does what it's designed for
Loop has been a blessing since its arrival. Loop has definitely help make positive changes to my sleep. I do have a slight issue with the application. As i purchased three Loops. Id like to be able to control all my Loop's from one device and multiple. I know Loop was designed for the office environment and its perfect for that. My office environment is in my home. Problem is my wife would like to benefit from Loop but cannot adjust the brightness at night if ive exited with my device. Also has to pick up two other separate devices in order to adjust the other Loops. Overall Loop in my life is doing exactly what its designed for.
In the box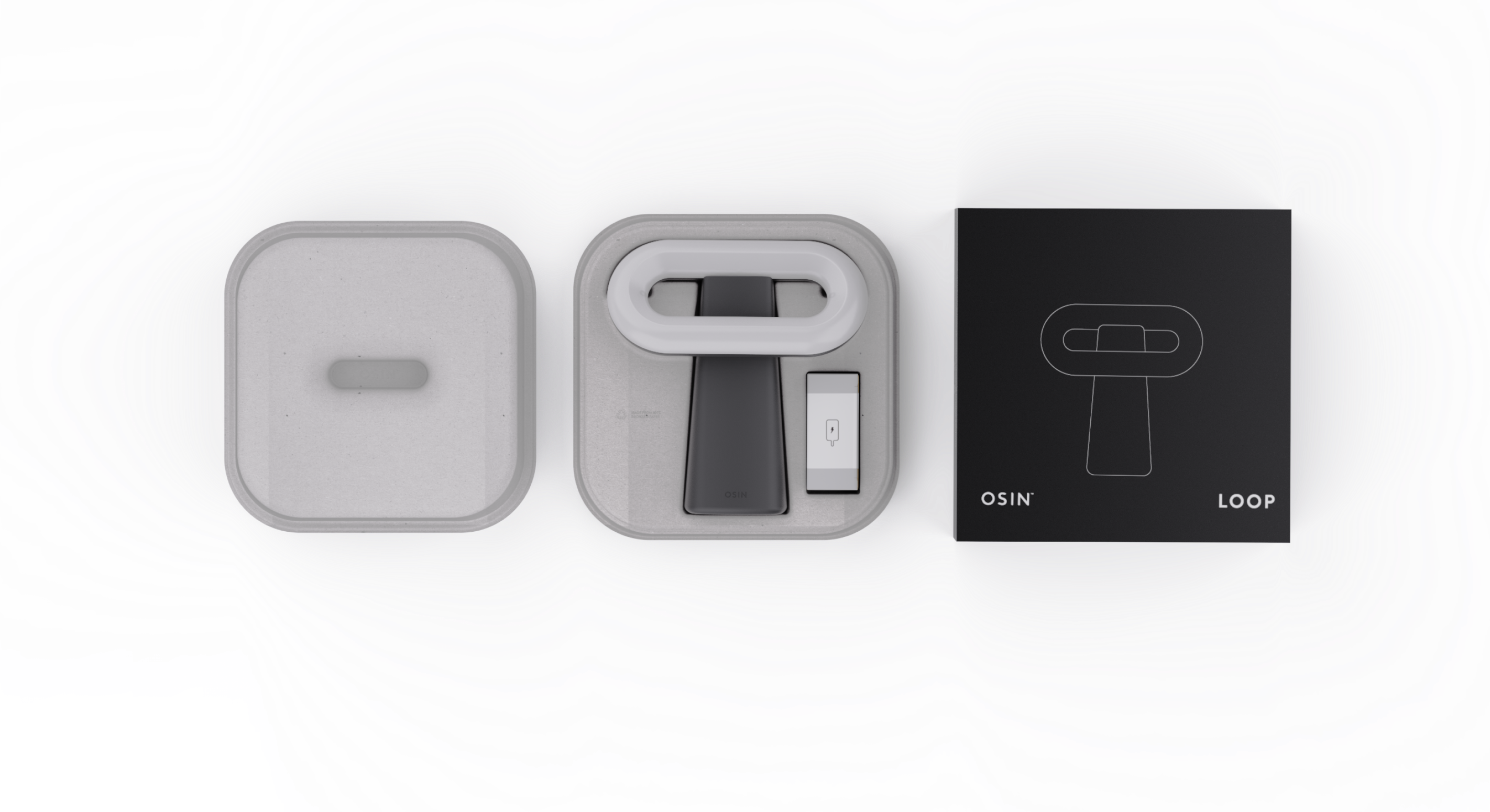 Loop | Power supply | International plug adapters
Frequently asked questions
Loop supplements your workspace with the light needed to align your circadian rhythm. During the day this light has been shown to:
• Improve alertness and cognitive performance (see studies 🔎: 1, 2)
• Improve mood (see study 🔎: 3)
• Alleviate sub-clinical seasonal affective disorder (see study 🔎: 4)

In the night and evening, this light can also:
• Promote melatonin production (see studies 🔎: 5, 6)
• Help you fall asleep faster (see study 🔎: 7)
• Enhance sleep quality (see studies 🔎: 8, 9, 10)
• Help you stay asleep longer (see studies 🔎: 11, 12)

Additionally, an aligned circadian rhythm helps ensure you live a long and healthy life by:
• Reducing the risk of heart disease (see studies 🔎: 13, 14)
• Reducing the risk of cancer (see studies 🔎: 15, 16)
• Reduce the risk of obesity (see studies 🔎: 17, 18)
• Reduce the risk of diabetes (see studies 🔎: 19, 20)
• Reduce risk of neurodegenerative diseases (see studies 🔎: 21, 22)
• Reduce the risk of depression and other mental health conditions (see study 🔎: 23)

Good question. Here are a few reasons why Loop is truly a one-of-a-kind product.
Evidence-based design – Loop is the only supplementary light that meets the recommendations
based on expert scientific consensus. Loop delivers >250 EDI during the day and <10 EDI in the evening.
Spectrally optimised ­– Loop's array of LEDs are spectrally tuned to the peak sensitivity of
intrinsically photosensitive retinal ganglion cells (the photoreceptors that set the circadian rhythm). Because of this, Loop achieves the same biological effects as daylight while remaining incredibly energy-efficient and visually comfortable. 
Round-the-clock support – Most products focus on either day or nighttime use. Loop provides
the optimum light around the clock, avoiding the need for two products.
Set and forget – Once paired with our app, Loop syncs with your time zone and automatically transitions between day and night modes.
Great question!

•Loopis designed to emit a specific band of blue light (peaking 480 nm) to reproduce the biological effects of sunlight.
•Colour-changing LEDsoffer a wide range of colours, making them great for décor. However, they cannot emit light peaking at 480 nm, meaning they are not equally effective for circadian rhythm alignment.

What are commonly known as RGB-LEDs, or colour-changing LEDs, are in fact a package containing three small individual LEDs, which emit at the following peak wavelengths: 450 (blue), 525 (green), and 625 nm (red). RGB-LEDs can produce a colour that appears visually similar to Loop by mixing the 460 (blue) and 525 nm (green) channels. But because it still lacks light at 480 nm, it does not have the same biological effect as using Loop.
We offer our customers a 30-day satisfaction guarantee. 
We're confident that you'll love Loop. Still, try it for 30 days (from the date of delivery) and in the unlikely event you do wish to return it, we'll give you a free return and a full refund.  
Read more about our returns policy.
Yes, the longer you are exposed to it the better.
Loop meets the recommended levels of light based on expert scientific consensus for optimum human health(see recommendations 🔎:1)
Despite what you may have heard, not all blue light is harmful. Blue light can be divided into two bands: blue-violet light (415-455 nm) and blue-sky light (465-495 nm). The two bands mentioned above exhibit vastly effects effects on the eyes.

Several studies have been published in medical literature demonstrating that blue-violet light can induce retinal cell death at high intensities; however, scientists still disagree whether this is a risk at the lower intensities we are routinely exposed to from devices.

On the other hand, Loop only emits blue-sky light, which in addition to being widely regarded as safe, is critical for aligning our circadian rhythms, which in turn maintain and regulate our sleep, mood and many other biological functions.
24V 0.5 A - 1W
Weight: 1.8Kg
IP Rating: IP20
Currently, we only support Afterpay in New Zealand. We plan to expand in future. Subscribe to our mailing list for updates.